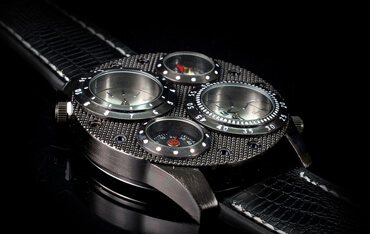 Today (3/07/2017) , House of DeChavel and DeChavel Switzerland Group is delighted to announce an investment deal with Invincible Group who  have acquired 70% of the luxury brand DeChavel with House of DeChavel (it's parent company) retaining the 30% share.
Chief Operating Officer (COO) of DeChavel, Colin Patrouski added "Invincible Group have been a very successful company worldwide for the past 18 years and responsible for some of the world's biggest events and media campaigns. We are proud to welcome the company on board as majority owners of DeChavel and believe through the investment. The future of DeChavel is set to become even more brighter"
DeChavel Watches was launched in Switzerland in 1982 with a heritage of providing timepieces for Royals and exclusive clients around the world. An exclusive brand with only selected owners dotted around the world. In 1982, the waiting list for a Royal Collection, Dechavel watch was 18 months.
The investment which was over 19 million pounds followed months of negotiating between Invincible Group and it's partners AIP Investments in Asia. The production and manufacturing of DeChavel Watches will stay in Switzerland and London offices will be ran by Invincible whilst all it's branches across 17 countries will remain thesame.
President of Invincible Group, Jordan Kensington commented "DeChavel is great addition to our roster of company. DeCahvel is a luxury brand steeped in tradition and culture. They are private and haven't been over exposed as is the case with many luxury brands. Luxury is about exclusivity, quality and service and DeChavel has produced that with it's timepieces for several years and it's glittering list of celebrities, royals, and presidents from around the world who wear the DeChavel watches are testament to the value the brand has worldwide"
The new investment and partnership opens DeCahvel up to a luxury clothing arm for men and women due to launch it's first A/W collection in 2018.
The announcement came at the eve of the launch of the #RoyalChampion the 2007 DeCahvel Royal Collection design which is now on available for  £25,000.
DeChavel has also been announced as official Headline sponsor for this year's International Fashion Awards 2017.
For more information on DeChavel:
Contact:
Simon Krosen
simon@dechavelwatches.com
Laura Kiplinsky
laura@dechavelwatches.com
To purchase the Royal Champion by Dechavel Watches. Click here